Productivity
How to Create a Successful Roadmap in UX Design Step by Step
A well-managed UX design process is what will help you achieve a successful, user-friendly digital product. That's the ultimate goal, right? But that's easier said than done.
What you need is a way to plan and prioritize problems and communicate future work. A plan for everyone on the team to be able to look at and instantly see what the strategy for a product is. A UX design roadmap.
A roadmap is a wireframe for strategy and goals within a product or team. It outlines, in an easily digestible way, the initiatives that the team will be working on now and in the future, and the basic steps needed to achieve those goals.
How to create a successful UX roadmap?
A UX roadmap should be a single source of strategy: it needs to be clear and easy to understand by everyone that reads it. Ideally a brief document that serves as a navigating point of focus and aligns the team's efforts around a single goal.
What a UX roadmap is not is a timeline of feature releases and outputs. You want it to focus on the user and the outcomes.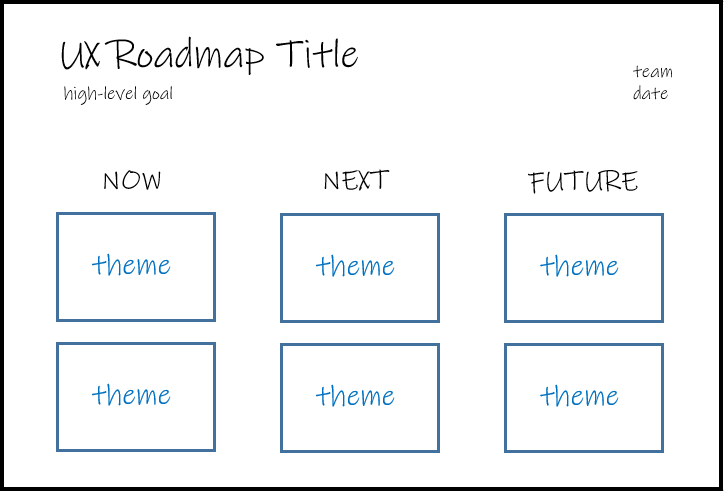 There is no set form of a roadmap, you can use whatever you think will serve your team best: lists, tables, visualizations, a wall of sticky notes. But no matter which form you use, a roadmap should always have the same fundamental structure.
Let's take a look at what should be included in a roadmap for UX:
1. Write out your scope
Give your roadmap a title. This will usually be the product that the roadmap is for – like Customer Loyalty App.
It's also useful to state a high-level goal, the ultimate vision for your product. So something like "An easy-to-use app that drives more business of happy customers".
Include the date of the last update and the name of the roadmap owner, so that everyone knows who the contact person is in case of questions or changes that need to be made.
2. Choose a simple time layout
You'll want to have your roadmap split into 3 areas: now, next, and future are the most common. Go ahead and use any other lingo, but make sure everyone can easily understand it.
Sometimes, it can be helpful to also include a "past" or "completed" section where you can touch on goals that have already been reached.
3. Define the theme
This is the main part of your roadmap where you describe what needs to be done, what the purpose is, and who will be working on it.
For each time segment, you will have one or more themes.
First, focus on the beneficiary and their problem. Who is your work geared towards and what problem will it solve for them. The beneficiary will most often be the customer.
Then, shift your focus to the business side. What objectives will be achieved once this step is done? How can you tell the problem has been successfully solved?
Things like optimizing the registration process to make it easier to understand for the customer with the objective of reducing the amount of support needed.
Finally, assign a team or team members and state the type of work that needs to be done. This is not meant to be an exhaustive list of tasks, more an overview of work type. Since we're talking about UX roadmaps, this could be e.g. research, visual design, prototyping or testing.
4. Other considerations
Since you want your roadmap to be a useful tool and not just a document that is up on the whiteboard but nobody ever looks at it, make it easy to use.
Are updates easy to make? Can you add or revise themes and move them around?
Is it easy to monitor progress? Would it make sense to use markers to determine if the work has been started?
If your theme is wide, maybe include subthemes to help guide the team towards the goal.
The different types of roadmaps
We've established that a roadmap is a single source, guiding light-type of situation. Not something everyone in the team will have made on their own. But depending on the context of the specific problem at hand, a roadmap can have a broader or more narrow team focus. It doesn't have to be UX only.
Teamwork makes the dream work!
Field roadmap
Since you are reading an article about UX roadmaps, you are probably interested in a type called field roadmaps. This is a roadmap that sets out the goals for the entire UX team in all UX aspects.
It won't include other teams that you might be working alongside, like marketing, development, or operations.
Specialty roadmap
Sometimes, it might make more sense to create a roadmap for just one specific UX area, like research.
Just like the field roadmap, the specialty roadmap doesn't have to be focused on a single product. It can have a wider scope and map out all the products the team is working on. It really depends on your specific work situation.
Product roadmap
Other times, mostly with new products, a roadmap that spans across many different teams may be the best option. It will include not only UX, but also marketing, web or app development, project management, etc.
No matter how your roadmap is planned out, it should not only guide teams towards reaching strategic goals, but also encourage knowledge sharing and communication.
There's no iterating without feedback!
An important part of a successful design and execution process is gathering feedback and reworking the current design – iterating.
Say your team's working on a new logged-in customer experience on your client's website. You'll want to let your team members from research and design to be able to get back to you with comments and insights before you start user testing, right? And once user testing begins, you know there will be tons of feedback that you'll need to collect, organize and consider in your next steps.
At Ybug, we're dedicated to making the feedback process as simple and effective as possible. Our widget and browser extension let users send annotated screenshots at the click of a mouse. You get their feedback either in your inbox or in your project management tool, with information about the user environment automatically included. You can even try it out for free and see how you like it.
How's that for helping with the UX process?
Start collecting meaningful feedback!
Easy Setup. Free 10-day trial. No credit card required
Try Ybug for free
---